THODDOO BEYRU
VACATION HOME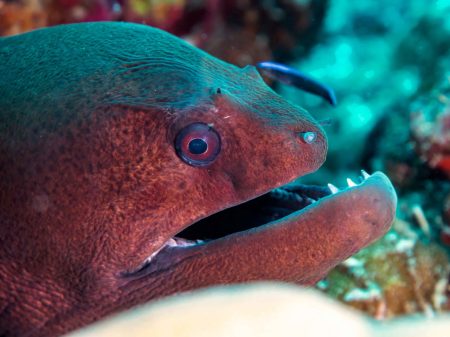 In the north-west part of the island, there is an extensive shallow coral plateau surrounded by gradual drop-off. It is one of our favourite spots to dive during winter and spring.
The plateau itself is quite an interesting place for photographers. There are a lot of coral formations, blocks and pinnacles – each of them is hiding something cool. Very often you can see baby sharks and stingrays resting under the rocks. Octopuses and moray eels also like to hide inside and under corals.
However, a typical scenario would be a wall/drift dive on just over the edge from about 10m. Recommended depth would be around 15m. There are some nice spots not to miss – Lobster house (a small coral formation where you can sometimes see a dozen lobsters hiding under) and Shark nursery (small cavern where you can encounter a few small whitetips). On the way, you can also see turtles and sharks cruising around.
Thanks to changing currents, you can make 3-4 dives here and you will never get bored!