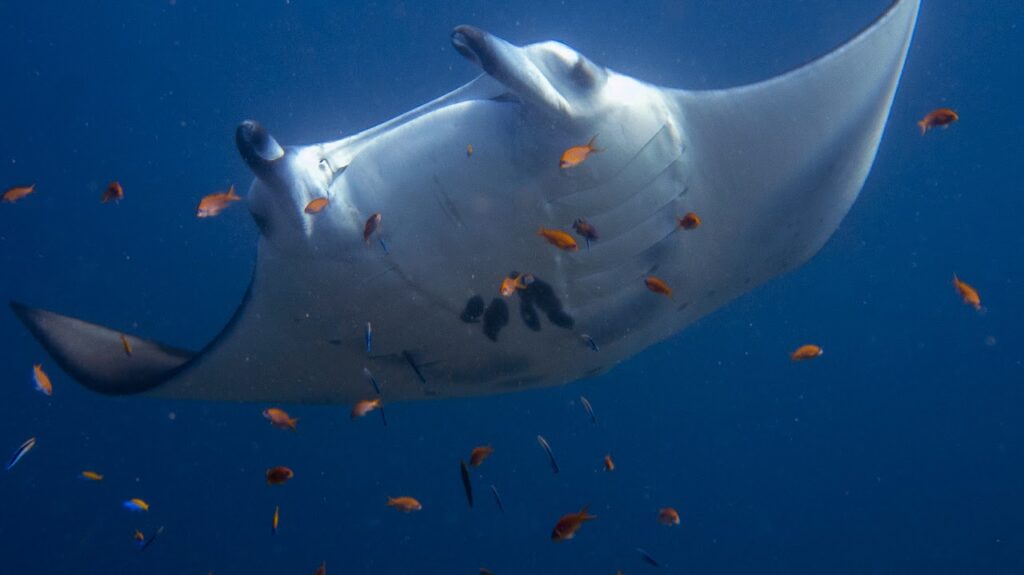 One of the most popular spots for snorkeling and scuba diving in Thoddoo. The main point of interest of this dive site is a huge mushroom-shaped coral serving as a cleaning station for giant manta rays. The best season for manta diving is between November and March when Thoddoo hosts dozens of mantas. However, you can encounter them throughout the year, as few species prefer to stay in Thoddoo here all year.
Two Towers is not just about mantas. With the right current, you can take a breathtaking drift dive between two main sightseeings – above mentioned 'mushroom' and a huge coral block, almost broken in half ("Broken head"). What to expect on the way: hawksbill and green sea turtles, silvertip sharks, white tip sharks, big tuna, and eagle rays. One of the spots on the way to Broken Head is called 'A house of flying daggers' – that's because of
Beware of triggerfish nesting around, remember to keep distance from the nests!
Another good idea is a deep drift on the outer ridge. Yeah, you guessed it right. Sharks! With the right sea conditions, you can encounter up to a dozen of full-size silvertips and whitetips. Bottom-dwelling stingrays are there, too.
When the current is down to the minimum, it is an excellent and easy excursion along the coral garden. Nudibranchs, 'pots' of anemones populated by funny clown fish, moray eels, all kinds of angelfish, butterfly fish… you will run out of memory on your card very soon 🙂